Texpro 丨 A Concise Introduction To Right The First Time Dyeing
2018-09-07 Read[183]
As we mention in previous article, a highly demand for low fuel consuming and low carbon emitting process of chemical fibers is expected to further surge in China. Dyeing of a textile is often the last step in the manufacturing of a fabric, it requires extra caution to get it right by avoiding waste and balancing cost. Under pressure to reduce the cost of manufacturing, in order to stay being competitive in business, they were required to exercise tighter quality control and seek ways to optimize dyeing.
Only under favourable conditions is possible to get it right the first time (RFT). This concept meant that at each dyeing was achieved the target sample at first time, hence not requiring re-dyeing. When the end product turns out duller than the original dye standard, operator has to stop and evaluate where the divergence occurred. Color change can happen at each step: chemical application, fabric texture, color fastness, and physical test, etc. Important factors to achieve successful dyeing at RFT include dye standardization, digital control reducing or eliminating human error, optimizing dyeing methods, quantifying end product quality.
A typical dyeing is considered to begin in the laboratory with sample matching, even when dye color is carried out by standardized methods, the results obtained can be subjective and unreliable, unless the same dyes, chemicals, gray materials, final heat-setting, machine temperature, liquor ratio (L: R) water supplies have been used.
liquor ratio for dye machine means the ratio of fabric weight and volume of water.
The conditions of liquor ratio effect in both laboratory sample and mass production: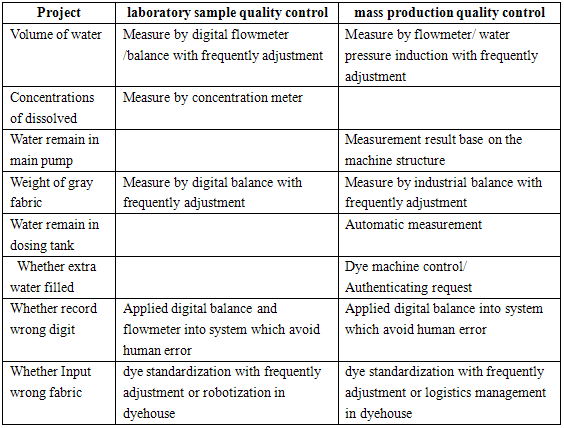 As scenarios for affect liquor ratio, a successful color matching depended on work carried out a relatively small number of organizations. Establishing a standard for quality attributes against risk assessments is critical in dyeing quality control. Furthermore, by measuring and quantifying quality attributes, are likely to improve by fast troubleshooting, correct dispute resolution and accurate technical information exchange.
Maintaining a right the first time concept in dyehouse operation will help monitoring production and ensuring quality at all levels. Among the most accurate of technologies available, digital flowmeters, assemblage in every Texpro muti-flow dyeing machines, are suitable for rangeability of dye-liquid applications. In addition, mirror polished internal reduces dye-liquid flow resistant. For eliminating human factors during dyeing-processes, Texpro fully integrated dyehouse network comprises of a vast range of automated dye-machines properly synchronized to each other. centralized control system is available to manage for machine groups real time and process analysis. These devices provide multiparameter data on each machine figures, energy consumption, etc. These will allow you to supply your customer with the high-quality fabrics within a reasonable budget.
Standardization and centralized control systems deploy smart dyehouse, using automatic, sensory equipment that dyeing right the first time, the future of dyeing is smart and it will sharp tomorrow's world.
Thank you for reading our article, we appreciate that you could share ideas and stories regarding to dyeing right the first time. See you next time.